Cascade of downloads
Project leader Materna continued to develop its Open Source JMEDS (Java Multi Edition Device Stack) framework based on DPWS (Devices Profile for Web Services) in BaaS. The foundations for JMEDS were laid in the projects SIRENA and OSAmI. JMEDS implements an abstraction layer for the integration of diverse device technologies as used and found in BAS. It has been published by Materna and downloaded more 31,000 times all over the world (87 countries) since its publication. Its latest release, modified by the BaaS developments, has been downloaded more than 15,000 times. A new release of JMEDS, to be published later this year as one result of the running ITEA Medolution project, will realise MDPWS (IEEE 11073 standard for safe and interoperable medical device communication), the 'medical' edition of DPWS. During February 2017, Materna founded a dedicated Innovation Centre for R&D inspired by the successes of BaaS and similar ITEA projects. This centre will increase the likelihood of commercial success for Materna's current innovation efforts in IT and multiply its latest R&D achievements. Furthermore, Franz-Jozef Stewing, Vice President R&D and Education / Shared Services at Materna GmbH hihglights: "In Materna, IoT has recently been elected as one of the company's key innovation areas. The results from the BaaS project can be considered as preparative activities to this, and the knowledge part gained in BaaS will definitely be a basis for Materna's future activities. The newly labelled ITEA project I2PANEMA, led by Materna and focusing on developing an IoT port reference architecture, is part of this continuous story."
Prodevelop provided the prototype 3D Web Visualisation for Real-Time Maintenance of Smart Buildings in BaaS. This has been successfully scaled to Smart City scenarios, namely for 3D real-time reconstruction from wearable sensors of buildings during emergency operations and for a Smart City 3D simulation and monitoring platform. Prodevelop is currently transferring these technological advances to a geo-smart product in the port sector.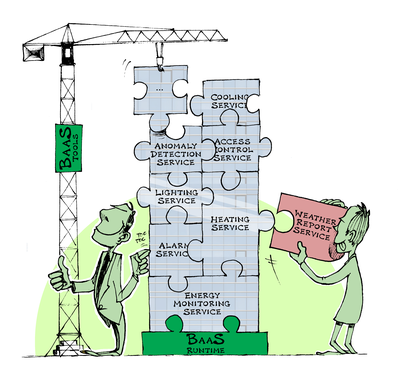 Demonstrating the value
Siemens has taken advantage of the results of the BaaS project for supporting the development of new BACnet standards (a data communication protocol for Building Automation and Control networks) together with Siemens Building Technologies. Ideas from the BaaS project have contributed to the Technical Working Group of the Fairhair Alliance, launched in 2015, to adopt and develop IoT technologies for Building Automation Systems, with Siemens, Philips and NXP as members. The BaaS Demonstrator has been shown many times to various Siemens business units for the internal dissemination of BaaS results and has gained several internal research and development projects that continue the semantic approach started in BaaS. In particular, a novel engineering methodology called Semantic-Driven Engineering (SDE) needed as an enabler for creating large-scale IoT deployments, such as those targeted by Siemens' IoT operating system MindSphere, has been proposed and will be further developed.
TWT is exploiting the semantic framework developed from the BaaS Information model to establish a so-called Smart Data Hub, a generic interface for individualised user queries to various data sources that will eventually connect enterprise applications with underlying data management systems. This has already been applied in a couple of customer projects plus there are a further two research projects to continue development of these software solutions. Customers have indicated that they like the natural language search to find the required information.
The University of Rostock, whose focus in BaaS was security protocols of building automation, like thread modelling in the commissioning phase of building automation systems and the relevant specific semantics, has published a survey on information modelling and ontologies in building automation in collaboration with Kieback & Peter in which all existing semantic definitions of building automation devices and data have been investigated. Furthermore, its CoAP (Constrained Application Protocol) stack for IoT has been extended to 'jCoAP', part of BaaS technologies, and is available as open source. . This pre-BaaS software was used and extended in and through the BaaS project and URO has integrated BaaS technologies in an IoT laboratory that combines both building automation and medical systems in one place to exploit the cross-domain features of BaaS-technologies. BaaS knowledge feeds into the teaching on IoT and related subjects and has a strong impact on the research domain, with new research projects being generated and a PhD and Master thesis being completed within the project period.
Some significant (academic) BaaS follow-up is also anticipated at Istanbul Technical University (ITU): nine graduation projects were completed and seven MSc theses written and based on project activities. ITU is currently awaiting the evaluation of a project proposal that targets system design and implementation of a secure IoT network and has been organising special IoT sessions for two years at ELECO, the International Conference on Electrical and Electronics Engineering.
While more time is still required for some of the exploitation opportunities of BaaS technologies to mature, the examples above reveal that this potential is already being utilised and that more prospects of doing so are in the pipeline.