Published on 03 July 2017 · Source:
EUREKA News
·
Download
EUREKA ministerial conference - outcomes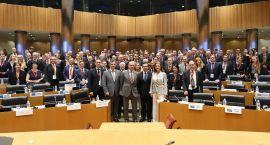 Ministers, secretaries of state and other high-level representatives of EUREKA member and associate countries met on Friday 30th June 2017 in Madrid to discuss new steps forward for EUREKA and reinforce its key position in the European innovation space.  Ministers have decided that, in view of EUREKA's long experience in promoting innovation within Europe and the success of its more recent outreach to the rest of the world, the initiative should refocus its activity in the coming years along two main axes:
"Government support to innovation is a great investment to the economy. Eureka is a clear example of such contribution", said Spanish Minister of Economy and Competitiveness Luis de Guindos.
Chile and South Africa
As part of the event, ministers signed an association agreement with Chile. Being the first Latin American country to be associated to EUREKA, Chile will become a benchmark for the cooperation with EUREKA in this part of the world.
 "Chile's association to the Eureka Network is a new milestone in its international integration. To be part of one of the most important platforms of international cooperation for the promotion of entrepreneurship and innovation is, without doubt, a tremendous opportunity for our country, "said Luis Felipe Céspedes, Chile's Minister for Economic Affairs.
Moreover, EUREKA's association with South Africa was renewed until June 2021. Together with the other associated countries Canada and South Korea, they make significant contributions to EUREKA's positioning as a global player in research and innovation.
Held in the Spanish Congress in Madrid, the conference also marked the end of the Spanish EUREKA Chairmanship 2016-2017. From July 2017, Finland takes over the Chairmanship for one year.
Further information:

Innovation award ceremony
An award ceremony was organised for the winners of the EUREKA innovation award 2017. The projects have been chosen due to outstanding results in international cooperation, technological novelty, economic success and societal/environmental benefits. A winning project was selected for each of the three categories 'Competitiveness', 'Added Value' and 'Innovators of tomorrow'.
Round-up of the Spanish Chairmanship
Nearly 500 company projects from the more than 40 countries that currently form the network have obtained the EUREKA Label during the Spanish Chairmanship. This is the highest number of projects labelled during a one-year mandate in the history of EUREKA.  More than 1 300 companies and nearly 450 research centres having participated, the potential investment amounts to more than one billion euros.
The new EUREKA Network and Cluster Projects impact report 'Innovation through cooperation: outcomes of the Impact report of EUREKA Network and Cluster projects 2001-2015' was well received by the Ministers and High Level Representatives. The study, among other things, shows that one year after the end of projects, project participants showed an additional annual turnover growth of 15% (Network Projects) and 13% (Cluster Projects) compared to non-participating firms.
Other achievements of the Spanish Chairmanship included the initiation of a new industrial initiative set to become a EUREKA Cluster – SMART in the area advanced manufacturing; the adoption of the updated EUREKA Strategic Roadmap as well as the simplified EUREKA Regulatory Corpus.

The Spanish Chair also promoted the necessary cooperation with the European Commission, with the aim to build common initiatives in the line of the successful Eurostars programme.
"I am fond of saying that Spain has always had an exceptional relationship with EUREKA. We always believed in the strength of cooperation between countries, also because witnessed, and still do today, how Spanish companies, universities or research centres have ideas, look for partners and realise their dreams," said Spanish Secretary of State for Innovation, Carmen Vela.
Further information:
Finnish Chairmanship: July 2017-June 2018
Finland is a founding member of EUREKA. Represented by Tekes, the Finnish government's innovation agency and a key player in financing research, development and innovation, it is the second time that it takes over the chairmanship of this network.
Tekes promotes a broad-based view on innovation: besides funding technological breakthroughs, Tekes emphasizes the significance of service-related, design, business, and social innovations. Every year, Tekes finances some 1,500 business research and development projects, and almost 600 public research projects at universities, research institutes and universities of applied sciences.
"We want to pave the road for continuing success of EUREKA. This means above all three things. Firstly, we need to see that EUREKA always takes the needs and expectations of project participants as a starting point. EUREKA must be efficient and concentrate on matters that are important for companies seeking growth and development through international cooperation in innovation: there's no room for red tape or poor services for customers and stakeholders.  Secondly, we want to establish EUREKA on the map of European Research and Innovation Area even more clearly in the future, clarifying its role and offering. And lastly, one of EUREKAs assets is its international dimension, stretching out almost everywhere in Europe, and also to some key countries outside. There's a clear potential to develop this global dimension of EUREKA even further, "said Mika Lintilä, Finnish Minister for Economic Affairs.
Further information:
After Finland, the UK will take over the EUREKA Chairmanship from July 2018 to June 2019.