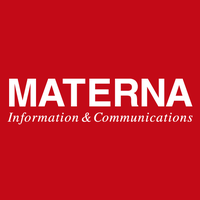 Materna GmbH
Description
Materna is a leading German ITC consulting company and we have been successfully implementing IT projects for our customers for 35 years now. Our team of around 1,500 dedicated employees works for our company throughout Europe and includes highly specialized consultants, software developers, software architects and project managers as well as editors and marketing experts. In the business year 2014 we achieved a group turnover of about 192 million Euros.
Our experts support our customers with process and technology consulting services, develop and implement the most suitable IT solutions and provide services for maintenance, operations and training. We also help to digitalize existing communications and sales channels and enhance them with new media. We accompany our customers from the initial idea and concept design through to implementation and operations. Our solutions are used by companies and the public sector alike.
Our success is based on long-lasting relationships with our customers. Our customer list reads like the "Who's Who" of Germany's corporate and public sector worlds. We create added value for our customers – just like our slogan says - "IT's value". This shows how committed we are to optimizing our customers' business processes. The corresponding business portfolio is pursued by a number of so-called business lines: digital enterprise, IT factory, government, mobility, communications and corporate business solutions based on SAP.
Our group of companies includes subsidiaries and affiliations which are successfully positioned on the market with their specific product and segment know-how. The other companies in the group are: cbs GmbH, GlobalGate, IQDoQ GmbH, leogistics GmbH, Materna TMT GmbH, Message Mobile, nexum AG, and Team GmbH.
Our more than 35 years of tradition as a family company are based on our core values of results-orientation, respect and trust. These three values determine Materna's relations with staff, customers and partners, working proactively to achieve long term sustainability. The focus of our actions is always to strive towards satisfaction for all stakeholders.
Materna works closely with several research and development partners. These activities include participating regularly in research projects such as, recently, ITEA EASI-CLOUDS and ITEA Building as a Service (BaaS).
Materna is at home in numerous locations throughout Germany and Europe, with its headquarters located in Dortmund, Germany.
(Submitted and approved by Franz-Josef Stewing on 2015-05-27)
---
Project involvement