Published on 13 Sep 2018
Festive edition of PO Days kicks of ITEA 3's fifth Call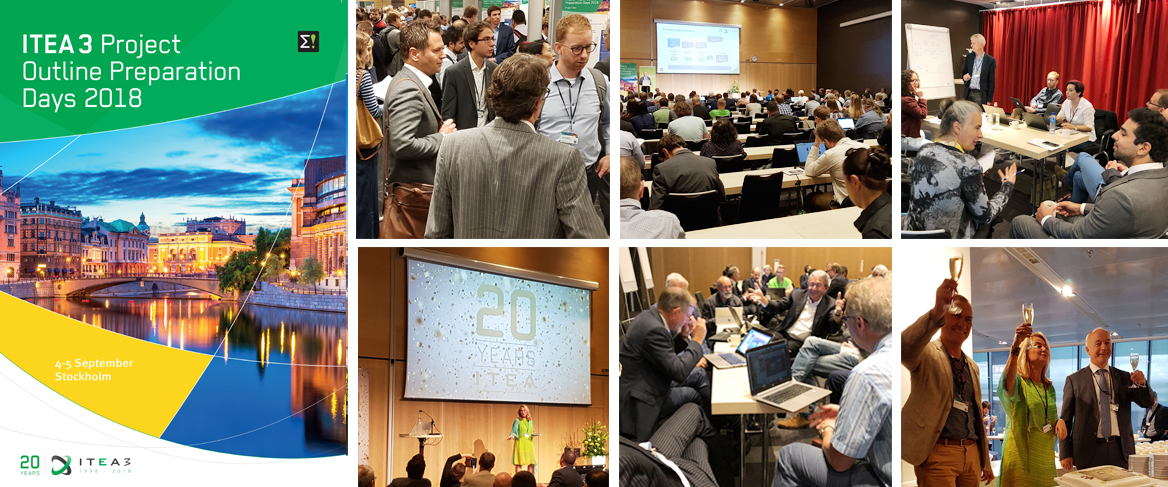 On 4 September, ITEA 3 Call 5 opened with the ITEA PO Days 2018 in Stockholm. During this festive edition of the event, the ITEA Community both celebrated 20 years of impactful innovation and looked to the future with the presentation of 61 new project ideas.
PO Days – a look to the future
Nearly 300 participants from 13 countries participated in this lively 2-day brokerage event. Most participants came from the host country Sweden, followed by Turkey, the Netherlands and Germany. For the fourth time in a row we welcomed a Canadian delegation to the event.
On Tuesday, 54 project ideas were presented as a poster and 44 ideas were pitched during the parallel pitch sessions. The following brainstorm sessions resulted in 15 intermediate results presentations on day one and 12 final results presentations in the closing session on Wednesday.
The project ideas were clustered by 7 societal challenges. Next to this year's Customer workshop topic of Smart Communities; Smart industry, Smart cities, Safety and Security, Smart engineering and Smart health were all well represented. However, it should be noted that POs submitted in ITEA do not necessarily have to specifically fit these challenges; all innovative projects on software innovation are welcome!
20 years of impact
As ITEA was officially labelled as a EUREKA Cluster in October 1998, these PO Days were an excellent opportunity for the ITEA Community to celebrate ITEA's 20 years of impact in Software Innovation.
ITEA Chairwoman Zeynep Sarilar kicked off the celebrations by presenting an ITEA timeline and announcing the addition of 7 new inspiring stories to the ITEA Impact Stream, which will keep on growing over time with impactful ITEA project stories.
For 20 years, ITEA's project impact has been achieved by a growing Community of close to 1600 partners from large industry, SMEs, universities, research institutes and user organisations in 32 countries worldwide. As ITEA would not have existed without its valuable Community and its strong projects, we invited our Community members to share their ITEA experiences in a short personal video message. A collage video of these heart-warming messages was shown at the end of Zeynep's speech.
The celebratory evening ended with a social gathering with cake and champagne.
Next steps
If you weren't able to participate in the ITEA PO Days 2018 but you are interested in taking part in ITEA 3 Call 5, you can still check the project ideas in the ITEA Project Idea Tool (NDA required). You can contact the project idea leaders via email if you would like to join a project idea.
The final pitches presented at the end of the PO Days were of a high quality and the first Project Outlines for ITEA 3 Call 5 were already shaped in the Community website during the PO Days! We look forward to the POs that will be submitted!
 Deadline for PO submission: 30 October – 17:00 CET
Check the ITEA 3 Call 5 Calendar
---